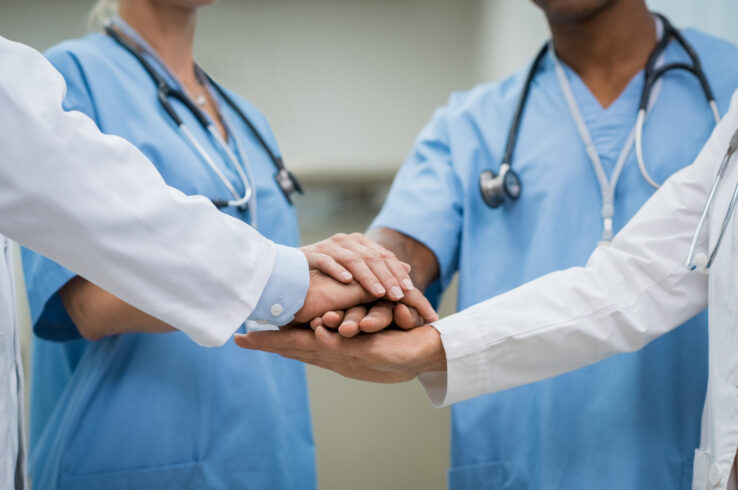 A webinar offered in conjunction with Vernissage Health, a leadership development initiative of the Institute of Health Policy, Management and Evaluation, and the Dalla Lana School of Public Health.
Health care organizations have long relied on the heroics of providers to save the day. Such heroics often result in temporary workarounds and quick fixes that leave patient safety and quality care at risk.
The high pressure and often disjointed work environment for health providers can put workers at high risk for "burnout." After prolonged stress, health providers frequently move into work environments with fewer demands or even leave the health field entirely.
While Canadians publicly heralded front line health providers as "heroes" during the pandemic, the post-pandemic health system, and those who work in it, are fragile. To ensure the well-being of the health system health leaders will need to focus on building better work environments.
In this webinar, a patient advocate and two pairs of health leaders—a physician pair and a nursing pair—will examine today's work culture post pandemic. Each of the health leaders is at a different stage of their career, some are early emerging leaders while others are mid- to late-career leaders. From their unique perspective, panelists will address: How do we "make a fresh start" and build healthier, more supportive work places for providers and patients? How can health leaders support, engage and reenergize a work force that is frankly, "running on empty?"
Register here to reserve your spot.
Speaker bios:
Anne Borden King is a writer, podcaster and children's rights advocate. Her monthly column in Healthy Debate focuses on health care equity and patient experiences. She lives in Toronto.
Dr. Gillian Hawker is the Sir John and Lady Eaton Professor and chair of the department of medicine at the University of Toronto and a senior scientist at Women's College Research Institute. Her research focus has been on disparities in access to care for people living with osteoarthritis. She has published over 300 peer-reviewed articles and was the 2020 recipient of the International Osteoarthritis Research Society's Clinical Research Award. As department chair, she has implemented strategies to enhance equity, diversity and professionalism, with a particular focus on advancing women and marginalized groups in academic medicine.
Zahra Ismail is a values-based clinical leader with progressive operational leadership and management experience. She has a passion for leveraging data and technology to drive innovative models of care while improving the human experience. She is currently the project director for Transitional Care & Community Integration at North York General Hospital, and previously, director, clinical transformation at The Hospital for Sick Children.
Ru Taggar is the executive vice president, Chief Nursing and Health Professions Executive at Sunnybrook Health Sciences Centre. She provides professional practice leadership to nurses and other health professionals. She also provides executive leadership to the hospital's Trauma, Women and Babies, Heart, and Bone and Joint Programs.
Dr. Brandon Tang is an award-winning educator, author, and resident physician in general internal medicine at the University of Toronto. He has published two medical textbooks, two mobile apps, and over 60 peer-reviewed articles and abstracts. Brandon is a TEDx speaker and has served in leadership roles for provincial, national and international medical organizations. Most recently, he received the 2021 Canadian Medical Association Award for Young Leaders for his national leadership in systems and culture change.

Sign up for IHPME Connect.
Keep up to date with IHPME's News & Research, Events & Program, Recognition, e-newsletter.
Get in Contact
---
Communications
TBD
Email Address: ihpme.communications@​utoronto.ca
Manages all IHPME-wide communications and marketing initiatives, including events and announcements.