One piece of a puzzle: How can economic evaluation help your research show "Value for Money"?
Speaker: Wanrudee Isaranuwatchai, University of Toronto
Given the limited resources we are faced with in health care, the ability to apply economic thinking when making a choice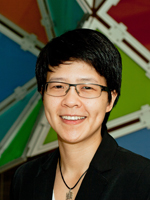 or a decision can be beneficial. Economic evaluation is a technique which enables an objective comparison of two or more health interventions or a quantification of a potential impact of a health initiative through an economic lens. Economic evaluation could provide another piece of evidence to assist health providers, decision-makers, and policy-makers in their decision-making process. This talk will present different types of questions which economic evaluation could help answer and their approaches through a practical example of an economic evaluation of a mental health intervention.
Dr. Isaranuwatchai is a Scientist at the Li Ka Shing Knowledge Institute of St. Michael's Hospital. She is a Health Economist at the Centre for Excellence in Economic Analysis Research (CLEAR), a part of the HUB Health Research Solutions at St. Michael's Hospital and an Assistant Professor at the Institute of Health Policy, Management and Evaluation, University of Toronto. Dr. Isaranuwatchai has collaborated with researchers and decision-makers in various topics areas to help communicate the value of health programs/initiatives using economic evidence. She has experience conducting economic evaluations using person-level data and decision modeling. Dr. Isaranuwatchai's research focuses on applied economic evaluation (e.g., how to make economic evaluation more useful to researchers, health providers, and decision-makers) and health economics methods.
Winter 2016 Schedule: http://www.canadiancentreforhealtheconomics.ca/learn/conferences-and-seminars/cche-seminar-series-15-16-2/
Join the CCHE Health Economics seminar series mailing list by sending an e-mail to: cche@utoronto.ca

Sign up for IHPME Connect.
Keep up to date with IHPME's News & Research, Events & Program, Recognition, e-newsletter.
Get in Contact
---
Communications
TBD
Email Address: ihpme.communications@​utoronto.ca
Manages all IHPME-wide communications and marketing initiatives, including events and announcements.