The Student Chapter of AcademyHealth@University of Toronto is pleased to host our second health services and policy case competition on Tuesday, February 10th 2015. We invite all graduate and professional students interested in developing a practical solution for a current issue faced by the health care landscape. This competition will offer you the chance to pitch your idea to, and network with, top health care leaders and executives from both the public and private sector. Registration is officially open from December 8th to January 16th 2015.
There are thousands of dollars in prizes to be won, including team and individual awards. Interested participants should form teams of 3-4 students with a team name, head shots and brief summaries of their background by the last day of registration: Friday, January 16th at 5PM. Registration cost is $20 per individual team member.
To obtain a registration form, please visit https://sites.google.com/site/uoftscah/ or contact the Executive of the Student Chapter of AcademyHealth@University of Toronto at uoftscah@gmail.com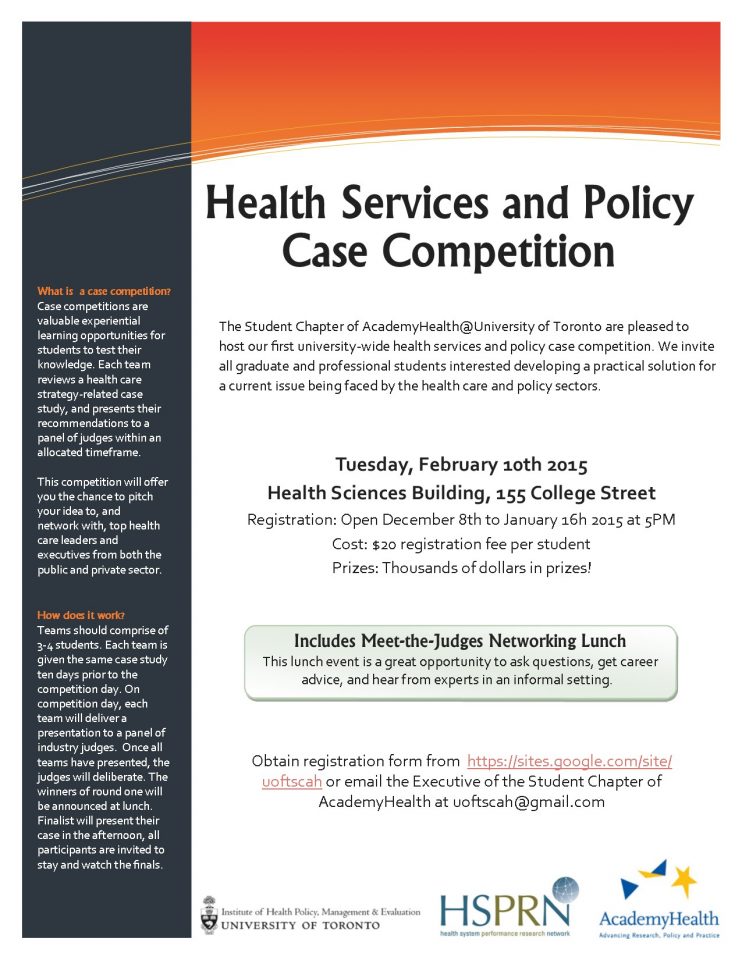 Sign up for IHPME Connect.
Keep up to date with IHPME's News & Research, Events & Program, Recognition, e-newsletter.
Get in Contact
---
Communications
TBD
Email Address: ihpme.communications@​utoronto.ca
Manages all IHPME-wide communications and marketing initiatives, including events and announcements.