In the Loop: Sicker, Fatter, Poorer
Featuring Dr. Leonardo Trasande
The Dalla Lana School of Public Health's Alumni Association presents the fourth annual In The Loop featuring Dr. Leonardo Trasande, an internationally renowned leader in children's environmental health.
Reception: 5:30 p.m.
Presentation: 6:00 p.m.
Environmental threats to health that arise out of economic activity such as industrial manufacturing often harm public health, particularly those not involved in the production of goods and services. For example, synthetic chemicals that disrupt hormones cost the U.S. $340 billion (2.3% of the Gross Domestic Product) each year. The differences in protective policies between the U.S. and Europe produce stark differences in exposures that contribute to disease with greater costs to U.S. society. The lessons learned from these different experiences are important for low- and middle-income countries, which OECD estimates will be the chief producers and users of synthetic chemicals by 2030.
This talk will explore how industrializing companies need not sacrifice economic growth in exchange for rapid industrialization. Low- and middle-income countries run the risk of repeating epidemic increases in chronic diseases linked to chemical exposures, just when they have emerged from fighting HIV, tuberculosis and malaria. The benefits of prioritizing the use of safer chemicals are significant, as exemplified by the removal of lead from gasoline, which produces a $2.45 trillion annual economic stimulus to low- and middle-income countries.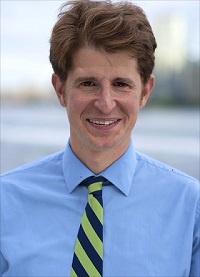 Leonardo Trasande's (MD, MPP) research focuses on identifying the role of environmental exposures in childhood obesity and cardiovascular risks, and documenting the economic costs for policy makers of failing to prevent diseases of environmental origin in children proactively. He also holds appointments in the Wagner School of Public Service and NYU's College of Global Public Health. He is perhaps best known for a series of studies published in Lancet Diabetes and Endocrinology and the Journal of Clinical Endocrinology and Metabolism that document disease costs due to endocrine disrupting chemicals in the US and Europe of $340 billion and €163 billion annually, respectively. Dr. Trasande leads one of 35 centers across the country as part of the National Institute of Health's Environmental Influences on Child Health Outcomes program. After receiving his bachelor, medical and public policy degrees from Harvard, he completed the Boston Combined Residency in Pediatrics and a legislative fellowship in the Office of Senator Hillary Rodham Clinton.
Click here for more info about Dr. Trasande's book, Sicker Fatter Poorer.

Sign up for IHPME Connect.
Keep up to date with IHPME's News & Research, Events & Program, Recognition, e-newsletter.
Get in Contact
---
Communications
TBD
Email Address: ihpme.communications@​utoronto.ca
Manages all IHPME-wide communications and marketing initiatives, including events and announcements.