The Centre for Global Health would like to invite you to the John R. Evans Lectureship in Global Health scheduled to take place on Tuesday May 2nd from noon-2pm. We are thrilled to announced that Professor Agnes Binagwaho will be visiting our campus and give the key note lecture, she will be joined by Joe Wong (Vice President, International, University of Toronto) and Tolu Ojo (PhD Student, IHPME Health Services Research and Collaborative Specialization in Global Health) on the panel afterwards. Professor Binagwaho is an award-winning international health advocate and academic with previous leadership roles in government and civil society. For this lecture, she will draw lessons from Rwanda and beyond. 
Title: Global Health Equity & Covid-19 – Where do we go from here?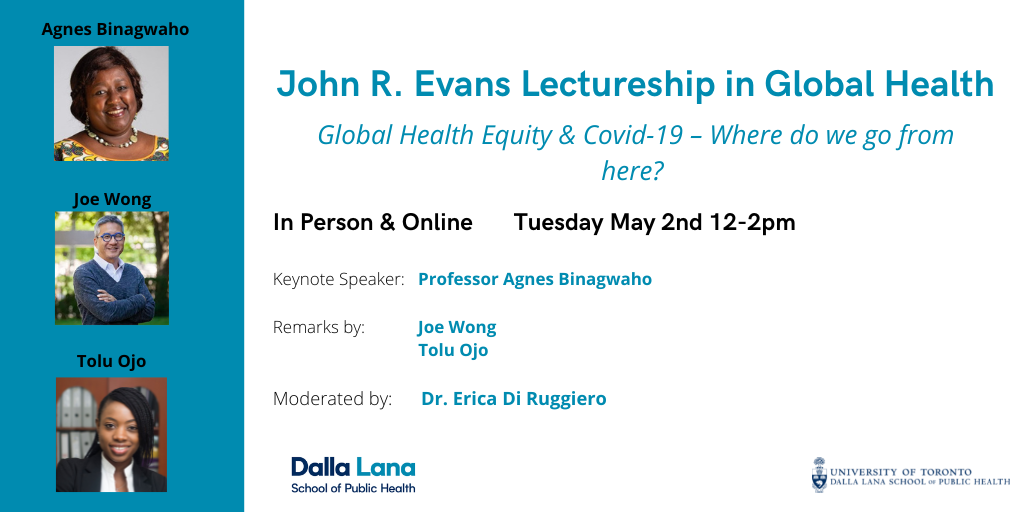 About the John R. Evans Lectureship in Global Health
The John R. Evans Lectureship in Global Health was established by Dr. David Naylor, when he was the University of Toronto's Dean of Medicine. The lectureship acknowledges the major role Dr. Evans played in the University of Toronto's history and his global contributions to the advancement of human health and well-being.
Description of Discussion
Ensuring everyone's right to health can only be achieved when people, communities and institutions (both local and global), work together to address systemic racial, social and health inequities. The COVID-19 pandemic highlighted persisting global and regional health inequities. While the Global North was flooded with COVID-19 vaccines, many people in the Global South were left behind. The current climate and migrant crises, international armed conflicts, food insecurity and weakened health systems further compound these health inequities. If we do not learn from these lessons, we run the risk of reproducing inequities and not addressing their underlying root causes.
How do we build a more fair and responsible global health system for all?
We look forward to seeing you!
For any questions or more information please contact globalhealth.dlsph@utoronto.ca.

Sign up for IHPME Connect.
Keep up to date with IHPME's News & Research, Events & Program, Recognition, e-newsletter.
Get in Contact
---
Communications
TBD
Email Address: ihpme.communications@​utoronto.ca
Manages all IHPME-wide communications and marketing initiatives, including events and announcements.