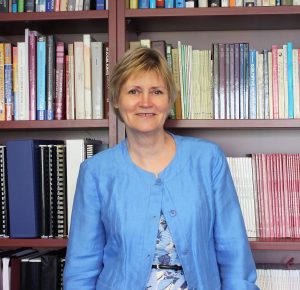 The Institute of Health Policy, Management and Evaluation is pleased to welcome its new acting director Professor Rhonda Cockerill whose term commenced on July 1, 2017.
For many in the IHPME community, Rhonda Cockerill is a well-known and familiar figure, and this appointment is a testament to her dedication to the Institute, her fellow colleagues, alumni, and graduate students.
This is IHPME's 70th year and there have been many achievements and milestones for the Institute since its early days in what was once called the School of Hygiene. The educational programs that IHPME offers have expanded over the years to include new areas of study such as the Masters of Health Informatics (MHI and EMHI) and MSc's with concentrations in Quality Improvement and Patient Safety (QIPS), as well as Systems Leadership and Innovation (SLI). "The structure of our programs has also changed," says Professor Cockerill, "we have created executive programs to allow professionals to return to school and take advantage of the learning opportunities we offer."
Alongside these improvements, there has been a strong push towards integrating more status and adjunct faculty into the IHPME community, which in turn has provided students and other core faculty members with a broader scope of research and networking opportunities. The Institute's current status within the Dalla Lana School of Public Health has also provided a significant opportunity for growth. "As a large component of the School of Public Health, we have a wonderful opportunity to showcase the breadth and impact of IHPME's work on the health care system," says Professor Cockerill. "We are more visible, and better able to show our strengths and abilities with respect to our faculty and student research."
Professor Cockerill is also very proud of the multidisciplinary nature of IHPME that has evolved over the years. From economists, to health policy analysts, health care professionals and individuals with expertise in quality management, there is a synergy that emerges in the work of the faculty, and their ability to create teams to work on a variety of research topics. "A major advantage of having such a broad range of faculty and skills, is that our impact becomes that much wider, which makes IHPME a truly unique place to study," says Professor Cockerill. With such a large range of expertise, prospective students can look forward to engaging in meaningful research, and developing networks of peers that will enhance not only their current studies, but their career paths as they move into the healthcare system.
Professor Cockerill is no stranger to achieving impactful change. In her time as a faculty member with IHPME, she has focused on the evaluation of community based programs. One example of her impact was her involvement in the evaluation trials of Plan B, a birth control strategy. "In the years prior to the evaluation, women were required to obtain a prescription and doctor's note, often delaying the effectiveness of the treatment," says Professor Cockerill. Following the trial and evaluation, pharmacies were able to provide Plan B without the need for a prescription, preventing unnecessary complications for many individuals. "That is just one small example of the impact that I have had, but there are countless other projects from our faculty that have had a lasting effect on the way that health care is delivered."
Prior to her new role, many at IHPME knew Professor Cockerill as IHPME's Graduate Coordinator, a role that allowed her to interact with students constantly, something that she is looking forward to maintaining as Acting Director. "I really enjoy meeting our students, I love when they experience success, truly no one is more proud than I am," she laughs.
"Their success is my success. If I wasn't in this role, I would miss the opportunity to meet our students and hear about their exciting ideas. It is truly a privilege." Professor Cockerill's hopes for the future of IHPME include the continued success of our graduates, and the ability of our Institute to remain a welcoming place for all who seek a place to study and research.
As her role as Acting Director begins, Professor Cockerill also looks to the future and a major milestone on the horizon for IHPME. This year the Institute of Health Policy, Management and Evaluation approaches its 70th anniversary, and on October 24, the IHPME community is invited to celebrate at our annual Moonshot event. "Moonshot is really an amazing opportunity for classmates to network with each other, for faculty to reconnect, and for everyone to enjoy themselves at a fantastic social party," says Professor Cockerill. Alumnus Leslie Boehm, has also undertaken a book project to capture the 70 year anniversary, and alumni are encouraged to reach out to Professor Cockerill if they have additional ideas for the 70th anniversary celebration.
"Undertaking a degree in IHPME is for many people, an important step in their life. They made a decision that involves a lot of work, but they also met people who have had a transformative impact on their experiences. Moonshot attracts faculty, students, stakeholders and donors in the IHPME family, because there is a strong connection between all of these networks," says Professor Cockerill.
We invite you to join us for Moonshot 2017, in celebration of IHPME's 70th anniversary at the Delta Marriott in Toronto. The key note address will be given by renowned complexity leadership expert, Professor Mary Uhl-Bien of the TCU Neely School of Business. Ticket sales begin August 16, visit the event page for further details and to register: ihpme.utoronto.ca/events/moonshot-2017

Sign up for IHPME Connect.
Keep up to date with IHPME's News & Research, Events & Program, Recognition, e-newsletter.
Get in Contact
---
Communications
TBD
Email Address: ihpme.communications@​utoronto.ca
Manages all IHPME-wide communications and marketing initiatives, including events and announcements.