As part of IHPME's continuing education programming, the new AI in Health Certificate is a flagship component of an initiative to bring artificial intelligence into the health sector, which is being championed by the Institute.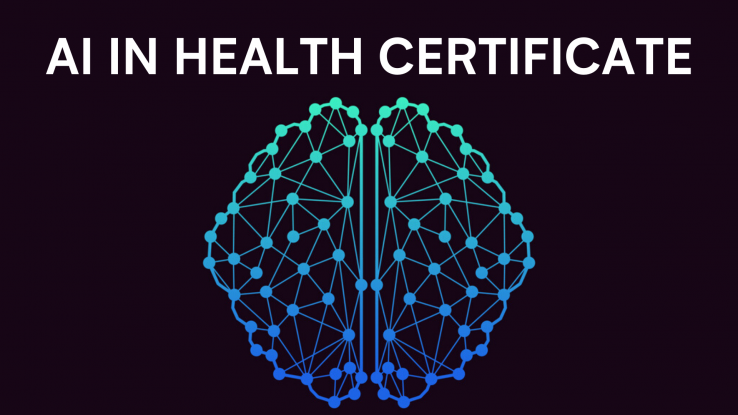 Developed by faculty members Emily Seto and Julia Zarb along with an advisory board, the certificate promises to prepare learners to apply innovations in AI for health, while gaining a practical understanding of how to implement AI within their own organizations through a specialized case project.
"AI has the potential to do tremendous good in health but can also do harm if not cautiously implemented with an understanding of the limitations and potential risks," says assistant professor Emily Seto.
Taught by expert faculty from a variety of disciplines at the University of Toronto, the certificate is unique in that it includes both researchers and practitioners working in health care to develop and implement AI, says Jay Shaw, who is also an assistant professor at IHPME as well as the Joint Centre for Bioethics, and is one of the module instructors for the certificate.
"The content is rooted in an in-depth understanding of health care systems and implementation science, and addresses the essential ethical issues that practitioners needs to understand to deploy and manage AI in socially responsible ways," says Shaw who is also a Senior Scientist at the Women's College Hospital Institute for Health Systems and Virtual Care (WIHV).
Modules for the AI in Health Certificate cover a wide range of topic areas, from ethics and policy, to AI in health strategies, business cases, data and information governance, and more.
See the AI in Health Certificate webpage for a full list of modules and their instructors.
"The last 10 years have seen unprecedented advancements in technical and analytical capabilities," says Eric Sutherland, a module instructor for the AI in Health Certificate, and the Executive Director of Data Governance Strategy at CIHI.
According to Sutherland, studies have shown that artificial intelligence will have the ability to advance our knowledge of health more in the next 10 years than in the past 1000.
"This program will unlock and demystify the secrets of AI for health care providers and professionals, to learn how to accelerate the creation of timely and trusted insights from this essential new resource," says Sutherland.
The AI in Health Certificate offers four-day modules March 6, 13, 27 and April 3. Registration for the AI in Health Certificate is now open with early bird pricing ending January 31. Regular registration closes February 21. For details visit: https://ihpme.utoronto.ca/continuing-ed/artificial-intelligence/

Sign up for IHPME Connect.
Keep up to date with IHPME's News & Research, Events & Program, Recognition, e-newsletter.
Get in Contact
---
Communications
TBD
Email Address: ihpme.communications@​utoronto.ca
Manages all IHPME-wide communications and marketing initiatives, including events and announcements.