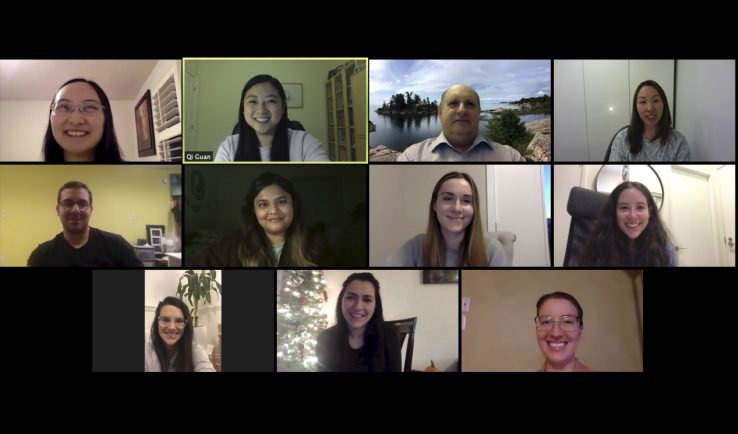 By Alisa Kim
The Institute of Health Policy, Management and Evaluation (IHPME) held its first virtual Research Day on Nov. 20, 2020. Two-hundred participants registered for the online conference, which showcases the work of the institute's graduate students.
Professor Audrey Laporte, director of IHPME, opened the day by welcoming attendees to the event. "This is a chance for us to get a taste of the innovative research and policy work being undertaken by our students, as well as a chance to celebrate achievement. I would like to congratulate our students on their choice of theme: Climate Change and Sustainable Health Systems. It's gratifying that our emerging scholars and policy makers have not lost sight of and are keeping our attention focused on what is perhaps the most pressing issue of our time," she said.
The event kicked off with a panel discussion on the health care sector's role in leading climate action by reducing the carbon footprint of health care activities. University of Toronto faculty Drs. Quinn Grundy, Kimberly Wintemute and Edward Xie formed the expert panel, along with Kent Waddington, co-founder of the Canadian Coalition for Green Health Care.
Waddington outlined the organization's mission, which is to enable the health sector to lead the integration of environmentally responsible practices in the delivery of compassionate care. Grundy, of the Lawrence S. Bloomberg Faculty of Nursing, spoke to the corporate influences on health and emphasized the need for clinical independence from companies. Wintemute, of the department of family and community medicine, is the clinical lead of Choosing Wisely. She talked about initiatives around the deprescribing of ineffective drugs and addressing inappropriate lab testing. Xie, also of the department of family and community medicine, explored the intersections between climate change, COVID-19 and social determinants of health. Dr. Fiona Miller, a professor at IHPME, moderated the ensuing panel discussion, which centred on the challenges and opportunities for moving toward environmentally sustainable health systems
Next, there were student oral presentations that fell under the following themes: exploring advances in health care and health research methods; allocating system resources; and engaging patients, community stakeholders and knowledge users.
During the lunch hour, attendees had the option of taking part in an online yoga session, participating in a virtual workshop by ELESH, an IHPME graduate student initiative that stands for Emerging Leaders for Environmental Sustainability in Health Care, or socializing in a Zoom meeting room.
The afternoon sessions featured more oral presentations of students' work. The presentations were divided into three categories: a big-picture view of public health and health services; systemic barriers and health inequities; and improving quality in health care. In total, 16 students presented their research throughout the day.
Dr. Jodi Sherman, director of the Program for Healthcare Environmental Sustainability at Yale University, gave the keynote address. Her talk was sweeping in scope, but included concrete examples of the link between health care pollution and disease burden. She outlined a process for measuring emissions called life cycle analysis, which includes material production, product manufacturing, use and distribution, and recycling and disposal. She ended by summarizing the latest research on health care pollution and identifying opportunities for mitigation.
The event concluded with student awards. The following trainees are winners of IHPME Open Awards:
Jack V. Tu Memorial Award for Excellence: Fahima Dossa and Maneesh Sud
Claire Bombardier Award: Amanda Hird, Maria Cusimano, Fahima Dossa
Ted Goldberg Award: Arlinda Ruco
Thomas and Edna Naylor Memorial Award: Tanya Hesser
Rhonda Cockerill Award for Incoming IHPME Research Stream Students: Waqas Khan
Comparative Health Systems Award in Honour of Les Boehm: Dina Bayoumy (2020) and Calvin Ke (2019)
Kevin J. Leonard Award: Beth Gerritsen
Health Equity and Social Justice Award in Honour of Diana Moeser: Nazlee Maghsoudi
Esta Wall Award of Excellence in Gerontology: Monisha Persaud
IHPME GSU Outstanding Leadership Award: Lydia Sequeira and Elzar Sipin
The following students were recognized with Research Day awards:
Maureen Dixon Award: Laura Shoots
Robert Duff Baron Award: Danielle Toccalino
Morning session one best oral presentation: Samantha Young
Morning session two best oral presentation: Lauren Ramsay
Morning session three best oral presentation: Andrea Duncan
Afternoon session one best oral presentation: Danielle Toccalino
Afternoon session two best oral presentation: Denise Webb
Afternoon session three best oral presentation: Laura Shoots
B. Rosenfeld Poster Award: Hassan Mir
IHPME GSU Poster Award (Health Systems Research and Quality Improvement & Patient Safety): Natasha Jawa
IHPME GSU Poster Award (Clinical Epidemiology & Health Care Research): Sarah Smith
Eugene Vayda Poster Award: Maaike de Vries
Gillian Hawker Poster Award: Maneesh Sud

Sign up for IHPME Connect.
Keep up to date with IHPME's News & Research, Events & Program, Recognition, e-newsletter.
Get in Contact
---
Communications
TBD
Email Address: ihpme.communications@​utoronto.ca
Manages all IHPME-wide communications and marketing initiatives, including events and announcements.