December 16, 2020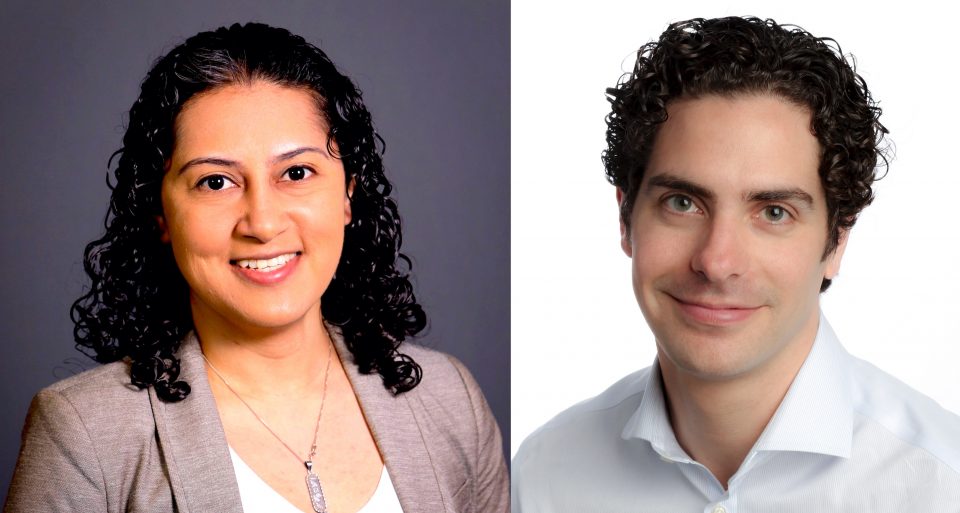 By Alisa Kim
Drs. Fahima Dossa and Nathan Stall, PhD candidates at the Institute of Health Policy, Management and Evaluation (IHPME), each received the 2020 Rising Star Award from the Canadian Institutes of Health Research (CIHR).
The award recognizes excellence in research and knowledge translation, and the potential impact of the awardee's work on the field of health services and policy research.
"Congratulations to Drs. Dossa and Stall on receiving this honour. It is wonderful to see their achievements acknowledged by CIHR early in their careers, and I look forward to seeing how they will make a positive impact on the health system, not only through their clinical work, but through their research," says Professor Audrey Laporte, director of IHPME.
Dossa is a PhD student in health services research at IHPME and a general surgery resident at the University of Toronto. Her thesis is on health services use by women who undergo testing for the BRCA1 and BRCA2 gene mutations—specifically how test results affect decisions about screening and preventive surgery. She was chosen for her article, "Sex-based disparities in the hourly earnings of surgeons in the fee-for-service system in Ontario, Canada."
The study, published in JAMA Surgery, looked at the gender pay gap among surgeons in Ontario. Disparities in pay between male and female surgeons are often attributed to differences in hours worked and specialty selection. Dossa notes, however, "if personal lifestyle and practice choices were the only reasons for the gender pay gap, men and women surgeons performing similar work and working similar hours would be expected to have similar earnings."
Dossa and colleagues found that women surgeons receive lower reimbursement per hour spent in the operating room. This lower hourly rate was traced to women having fewer opportunities to perform surgeries that were more highly remunerative. "Women working more hours will not close the gender-based earnings gap among surgeons," she says.
Dossa says she is "deeply honoured" to be identified as an emerging health services and policy leader. "To be recognized for work on gender equity is especially meaningful as research in this area is often overlooked or dismissed. This award carries immense personal and professional meaning but, most importantly, it signifies that progress is being made in our willingness to address issues of equity in medicine. It is not enough to simply acknowledge that disparities exist, it is incumbent on us all to find evidence-based solutions for tackling these inequities," says Dossa.
Stall is a PhD student in clinical epidemiology at IHPME. He is also a staff geriatrician at Sinai Health System. He was chosen for his paper, "Sex-specific differences in end-of-life burdensome interventions and antibiotic therapy in nursing home residents with advanced dementia." Burdensome interventions refer to treatments and procedures that in the setting of advanced dementia are often avoidable, may not improve comfort, and are frequently distressing to long-term care home residents and their families.
The study was published in JAMA Network Open. "We found that men were much more likely than women to receive antibiotics and experience burdensome interventions like transitions of care, invasive procedures and physical restraints. Moreover, only a minority of residents saw a palliative care physician in the year before death, but those who did were significantly less likely to experience an end-of-life transition of care and to receive antibiotics," says Stall. The findings underscore the need for sex-specific analysis in dementia research and the expansion of palliative care and antimicrobial stewardship in the nursing home setting, he says.
Stall says he is "humbled" to receive the award and that he is grateful to the CIHR Institute of Health Services and Policy Research for recognizing his work. "Receiving an award like this during the early stages of my career motivates me to continue working hard to advance research on the care of older adults, including vulnerable long-term care home residents living with dementia."