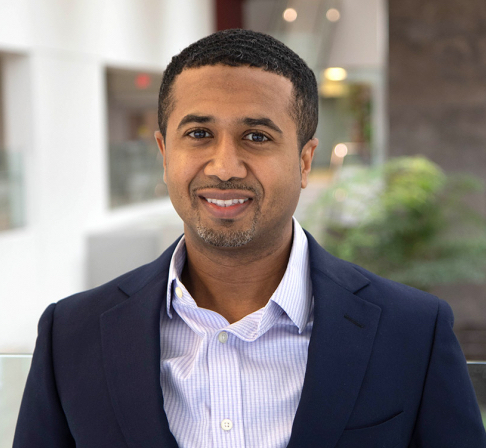 By Alisa Kim
Statins (drugs used to lower cholesterol and reduce risk of heart disease or stroke) may lessen the heart-damaging effects of two common chemotherapy drugs used to treat breast cancer, suggests research led by Dr. Husam Abdel-Qadir, a clinician-scientist and an assistant professor at the Institute of Health Policy, Management and Evaluation.
As a cardiologist, Abdel-Qadir looks after people with cancer, as many of them go on to develop cardiovascular issues owing to their cancer treatment. "A lot of cancer drugs are designed to kill cells that are metabolically active, and the heart's a very metabolically active organ," he says.
Damage to the heart caused by chemotherapy drugs like anthracyclines and trastuzumab, is something that, despite advances in treatment, Abdel-Qadir sees regularly. Although oncologists have become better at delivering these drugs more safely and effectively, the collateral damage to the heart "still continues to be a problem," he says.
He notes prior research suggests that taking a statin during chemotherapy may strengthen the heart slightly. He says, "we wanted to move the conversation further by trying to understand are women who are being treated with a statin actually going to have lower rates of heart failure?"
Abdel-Qadir is first author of a study showing that among women treated with anthracyclines or trastuzumab, those who were already taking statins were half as likely to be hospitalized for heart failure within five years of chemotherapy. The research was published in the Journal of the American Heart Association on Jan. 6, 2021.
Using health databases in Ontario, Abdel-Qadir and colleagues studied the records of women aged 66 years and older who were treated with anthracyclines or trastuzumab for breast cancer between 2007 and 2017. The researchers found that women who took statins while on either of the two chemotherapy drugs were about 50% less likely to visit a hospital emergency room for heart failure, where the heart is too weak to meet the body's pumping needs.
Abdel-Qadir does not recommend taking a statin during chemotherapy if it's not needed, but says, "if you happen to be someone who should be on a statin and are not on one, [the research] emphasizes the need to be on a statin. It's part of what we do in general in our clinic—we try and make sure we reduce the chance that anything else will harm the heart beyond the chemotherapy."
He cautions the research does not prove conclusively that statins protect against heart damage. For that, a randomized controlled trial is needed. He is supporting his colleague, Dr. Paaladinesh Thavendiranathan, who is the last author on the paper, in running a pilot clinical trial to assess whether giving someone a statin before anthracycline chemotherapy prevents heart dysfunction.
Nevertheless, he is excited by the results of the study. "This is sort of why you do medical research. You want to be able to uncover something that has the potential to instill hope and raise the possibility that you can make someone live longer or live better."
This study was funded by the Ted Rogers Centre for Heart Research and the Canadian Cardiovascular Society. Abdel-Qadir's research is supported by a National New Investigator Award from the Heart and Stroke Foundation.

Sign up for IHPME Connect.
Keep up to date with IHPME's News & Research, Events & Program, Recognition, e-newsletter.
Get in Contact
---
Communications
TBD
Email Address: ihpme.communications@​utoronto.ca
Manages all IHPME-wide communications and marketing initiatives, including events and announcements.