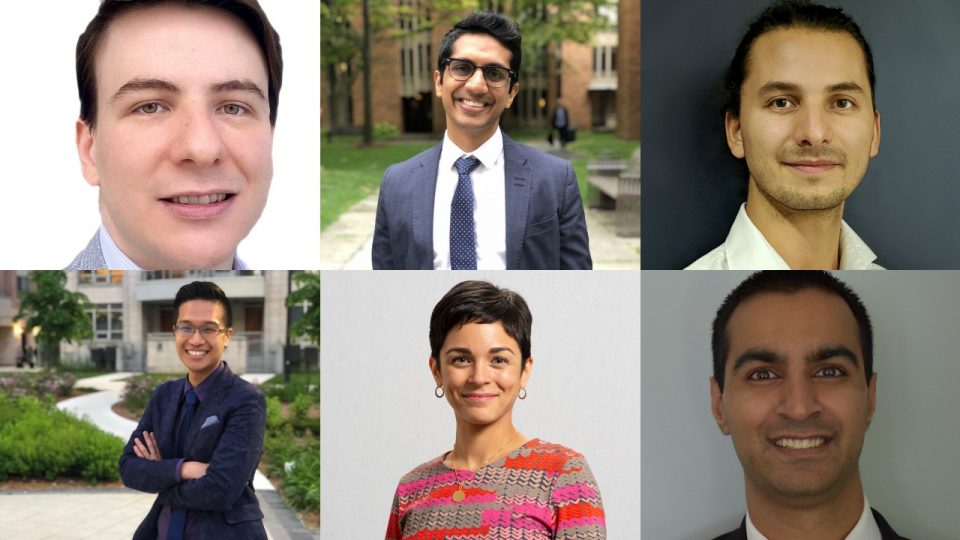 By Alisa Kim
Six PhD students at the Institute of Health Policy, Management and Evaluation (IHPME) received Frederick Banting and Charles Best Canada Graduate Scholarship Doctoral Awards from the Canadian Institutes of Health Research (CIHR).
The aim of the awards, valued at $105,000 over three years, is to promote excellence in Canadian research by rewarding and retaining exceptional doctoral students at Canadian institutions. The support enables scholars to concentrate on their studies, find the best research supervisors in their chosen fields and contribute to the nation's research ecosystem.
"Congratulations to all of the recipients on this outstanding achievement. These awards, which are highly competitive, recognize your dedication and the promise you show as researchers. We are so proud of you and hope this recognition encourages you as you continue your training," says Dr. Audrey Laporte, Director of IHPME.
Dr. Lucas Godoy, a PhD candidate in Clinical Epidemiology and Health Care Research, says he was "absolutely thrilled" to learn of his award. Godoy's research looks at how cardiovascular drugs and procedures can have differing impacts on people with diabetes. The aim is to provide more targeted and precise care for these people. Godoy, who trained as a cardiologist in Brazil, says the award validates his decision to come to Canada for graduate studies. "This award reassures me that I am on the right track and helps to keep me motivated to go further," he says.
Vinyas Harish, a PhD student in Clinical Epidemiology and Health Care Research and a medical student at U of T's Temerty Faculty of Medicine, was delighted to learn that he was chosen for the award. His research examines how health systems can use digital data and computational methods to respond better to health emergencies, with a focus on COVID-19. "The pandemic has demonstrated how much work needs to be done in order to operationalize the notion of 'resilient health systems.' The CIHR committee's belief that my research can play a small role in figuring out how to do so is very humbling," says Harish.
Nicolas Iragorri, a PhD student in Health Systems Research, was on a grocery run when he found out he had won the scholarship. "I felt immense joy and relief after reading that beautiful word: Approved," says Iragorri. His thesis examines the burden of antimicrobial-resistant Neisseria Gonorrhea in Canada. His research will predict the health and cost outcomes associated with mitigation strategies using an equity lens
Dr. June Lam, a PhD candidate in Clinical Epidemiology and Health Care Research and a psychiatrist at the Centre for Addiction and Mental Health, says he is grateful for the support from CIHR. His research aims to identify ways to improve mental health care with and for transgender people. His thesis uses health administrative data to understand transgender people's use of mental health hospitalization and emergency room visits, and their post-discharge access to care. He says doing research—especially during a pandemic—can be challenging, but the award encourages him to press on. "It means a lot to me and I'm so grateful for this much-needed boost in my research-related spirits," says Lam.
Dr. Fiona Muttalib, a PhD candidate in Clinical Epidemiology and Health Care Research and a pediatric intensivist, says the award is inspiration for her studies. "It serves as great motivation to keep working towards bettering ourselves as critical thinkers and innovative researchers at a time when the world needs equity in science and medicine more than ever," says Muttalib. Her thesis is on identifying strategies to improve the quality of pediatric emergency and critical care in resource-limited settings.
Dr. Bijan Teja, a PhD candidate in Clinical Epidemiology and Health Care Research and an anesthesiologist at St. Michael's Hospital, will use the funds to support his research into the treatment of septic shock (overwhelming infection), which causes low blood pressure and is associated with a very high chance of death in hospital. He will identify differences in which drugs for blood pressure doctors choose and the best ways for those drugs to be given. "I am extremely grateful for the support from CIHR and for the mentorship I received from my PhD committee in preparing my research proposal," says Teja.

Sign up for IHPME Connect.
Keep up to date with IHPME's News & Research, Events & Program, Recognition, e-newsletter.
Get in Contact
---
Communications
TBD
Email Address: ihpme.communications@​utoronto.ca
Manages all IHPME-wide communications and marketing initiatives, including events and announcements.