July 15, 2021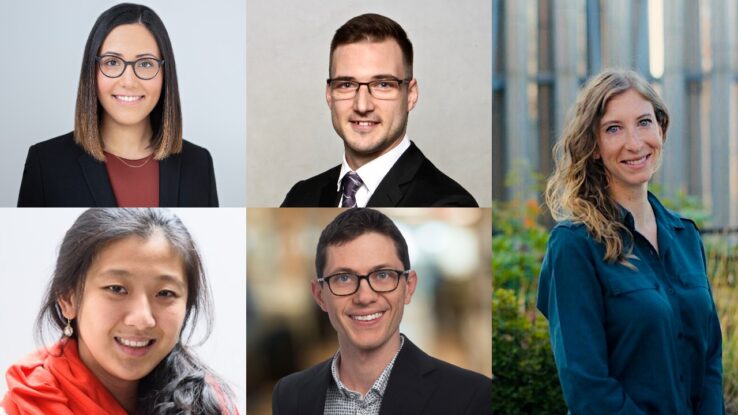 By Alisa Kim
Five PhD candidates at the Institute of Health Policy, Management and Evaluation (IHPME) have been awarded Vanier Canada Graduate Scholarships—one of the country's top academic honours for trainees. The award, worth $150,000 over three years, aims to strengthen Canada's ability to attract and retain the world's best doctoral students. All of the recipients are from the Clinical Epidemiology and Health care Research program at IHPME.
"Congratulations to all of the awardees. The Vanier Scholarship recognizes your outstanding academic achievement and your leadership potential. We are very proud of what you have accomplished thus far and look forward to seeing the mark you will make as researchers and health system leaders," says Dr. Audrey Laporte, Director of IHPME.
Dr. Tina Felfeli is the first resident in ophthalmology in the integrated physician-scientist training program at the University of Toronto. Supervised by Dr. Beate Sander, Felfeli's research looks at the application of personalized prediction models for inflammatory and blinding eye conditions. She is also studying the burden of these conditions on the health care system and ways of improving care delivery within the field of ophthalmology.
Dr. Graeme Hoit is an orthopedic surgery resident at U of T. Supervised by Dr. Aileen Davis, his research is on establishing predictive factors of success for non-operative management of femoroacetabular impingement syndrome, a condition in which extra bone grows along one or both of the bones that form the hip joint—giving the bones an irregular shape.
Dr. Han Yan, a neurosurgery resident at U of T, was nervous about whether she would receive the award, only to learn that as a nominee, she was ranked first in Canada. Supervised by Dr. Abhaya Kulkarni, Yan's research is on understanding the effects of a treatment called deep brain stimulation to reduce self-harming behaviours in children with autism spectrum disorder. She is conducting a pilot clinical trial to study the feasibility of implementing this therapy and measuring the outcomes.
Dr. Christopher Yarnell is a critical care doctor at Mount Sinai Hospital. His doctoral thesis, under the supervision of Dr. George Tomlison, is on identifying which patients with respiratory failure benefit from being placed on a mechanical ventilator. Yarnell notes mechanical ventilation for respiratory failure is generally thought to be life-saving, but it comes with significant risks and side effects. The decision to place someone on a ventilator is guided only by physiologic principles and clinical experience. "Our work uses modern statistical and machine learning methods coupled with a detailed database to hopefully shed more light on which patients are most likely to benefit from being placed on mechanical ventilators," he says.
Dr. Samantha Young is a general internal medicine physician at St. Michael's Hospital. Supervised by IHPME faculty member Dr. Ahmed Bayoumi, Young's PhD thesis aims to partner with and prioritize the views of people who use opioids in examining the impact of the overdose and COVID-19 crises on pharmacotherapy for opioid use. "I hope that the results can be used to inform guidance and policy changes to improve medication options for people who use opioids," she says.