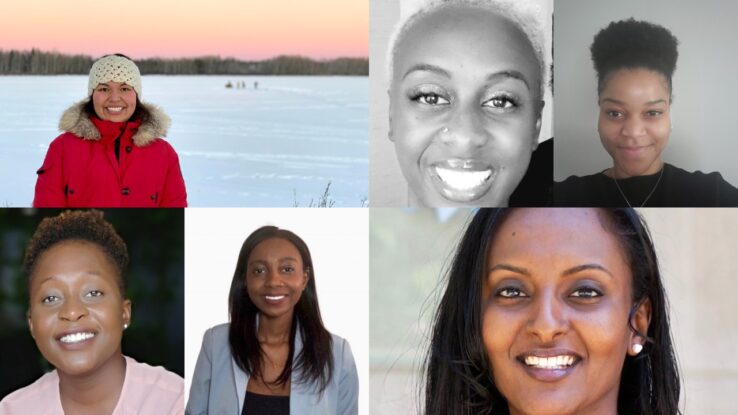 By Alisa Kim
Growing up in Thunder Bay, Ontario, Dr. Rebekah Neckoway witnessed barriers to health care delivery and access. Neckoway also sees this issue as a rural family physician caring for Indigenous peoples living in remote First Nations communities—a problem she seeks to address through her training at the Institute of Health Policy, Management and Evaluation (IHPME).
Ojibway on her mother's side and Cree on her father's side, Neckoway says that although she "loves the connections and rewards of frontline work," she also seeks to lead transformation of health care for Indigenous People. "I have been exposed to these systems throughout my life as I have family who reside in fly-in First Nation communities. Seeking equitable health care for my family and Indigenous peoples has driven my life's work. It has been a passion of mine since beginning my university training to work with and for Indigenous organizations and to move the needle of Reconciliation forward," says Neckoway, who is enrolled in IHPME's Health Administration program.
She is one of six inaugural recipients of the IHPME Opportunity Scholarship. The award aims to promote and support the academic excellence of promising Black and Indigenous trainees. It advances the Institute's strategic goal of attracting a diverse student body with a breadth of experiences and perspectives to maintain its standard of excellence in research and training.
"On behalf of the Institute, I would like to congratulate all of the recipients on their awards and achievements thus far. As you are equipped with the skills and knowledge to drive change in the health system, I look forward to seeing how you will make it stronger and more equitable," says Dr. Audrey Laporte, Director of IHPME.
Rhonda Boateng is pursuing a PhD in the Health Systems Research program and is also a project coordinator at the Centre for Addiction and Mental Health. She says she was "delighted" to learn she had been awarded the scholarship and immediately informed her family, friends and supervisor of the good news. Boateng, whose goal is to be an academic researcher focused on health services and global health, says she was drawn to the interdisciplinary nature of the program. "I look forward to developing an expertise in health services evaluation, knowledge translation and health policy. My research will focus on the evaluation of workplace violence prevention interventions in the global health context," she says.
Tega Ebeye is a student in the System Leadership and Innovation program and is also a medical student at U of T. She says receiving the scholarship validated her career aspirations and made her feel supported. "This [award] means a lot to me. It reminds me of the responsibility I have to my community in the future. I hope to use the critical skills developed at IHPME to help me navigate the complexities and intricacies that come with being a physician in the current sociopolitical climate," says Ebeye.
Dr. Azza Eissa is pursuing a master of science in the Clinical Epidemiology and Health Care Research program. She completed a PhD in the department of laboratory medicine and pathobiology at U of T, and is also a physician in family and community medicine. Her research aims to address systemic racism and inequities in Canada's health system by using data and organizational change to meet the health needs of a diverse population. Eissa says she was "honoured" to win the scholarship. "It was encouraging to see this diversity in research recognized, which I hope will reassure and motivate others to pursue their passion for creating a more equitable and healthier world through their scholarly or policy-related research—regardless of their educational background or scientific discipline of interest," she says.
Dr. Shambe Mutungi is completing her master of health science in health administration and is also an obstetrician and gynecologist. She says she is excited to begin a new educational journey and hopes to use her training as a health system leader in service of the Black Physicians of Ontario and the Black Physicians of Canada. "I also hope to use the new knowledge acquired during my master's to represent the voice of women's health on the administrative front at both my current center and on a more provincial or national stage. Already so early in the program I feel I will gain a better understanding of how to navigate the business side of our health care system, which is something rarely taught in medical education, although it plays a huge role in how we navigate our daily interactions with our patients and our communities," says Mutungi.
Shantel Thomas felt excited and relieved upon learning of her award, followed by nervousness about "living up to the expectations." But, says Thomas, who is in the Executive Master of Health Informatics program, "I am motivated to face the challenge." A project coordinator at St. Michael's Hospital, Thomas aims to build a career in health care focused on creating an enterprise planning system that enables business and clinical operations for supply chain management. "Getting this support has renewed a sense of encouragement and pride in my capabilities, and I am grateful to be recognized along with the other recipients," Thomas says.

Sign up for IHPME Connect.
Keep up to date with IHPME's News & Research, Events & Program, Recognition, e-newsletter.
Get in Contact
---
Communications
TBD
Email Address: ihpme.communications@​utoronto.ca
Manages all IHPME-wide communications and marketing initiatives, including events and announcements.