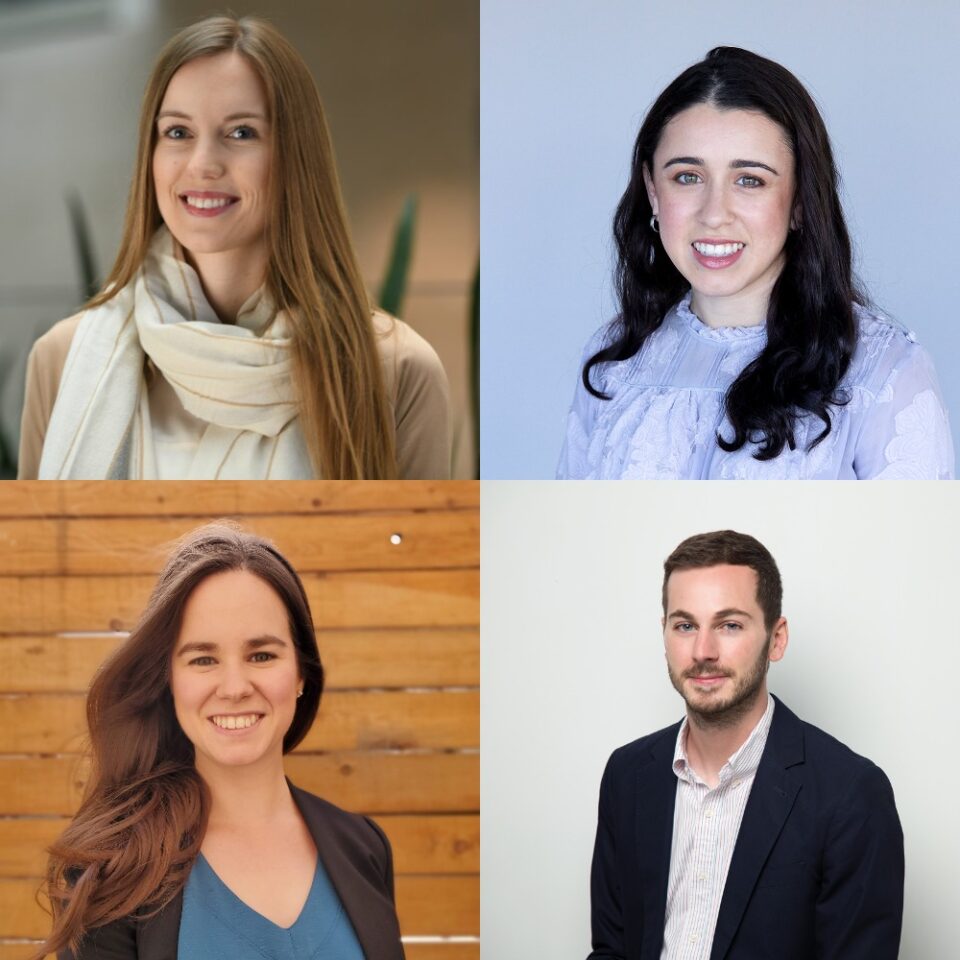 By Alisa Kim
Four PhD students at the Institute of Health Policy, Management and Evaluation (IHPME) were awarded doctoral fellowships from the Social Sciences and Humanities Research Council (SSHRC). The prestigious tri-council awards enable scholars to focus on their studies, seek out the best mentors in their chosen fields and contribute to Canada's research ecosystem.
"Congratulations to all of the award recipients. This investment into your research speaks to the important interdisciplinary work you are doing, which aims to shape health policy in diverse areas," says Professor Audrey Laporte, Director of IHPME.
Victoria Boyd, a fourth-year PhD candidate in the Health Professions Education Research program, was awarded $40,000 over two years. Her research, supervised by Drs. Stella Ng and Nicole Woods, looks at the teaching potential of dialogue to understand how to prepare health professions learners to enact critical reflection, as well as how critical reflection impacts practice outcomes in health care settings. The aim is to advance theoretical and practical knowledge of how to educate future health professionals to provide compassionate, equitable and ethical health care for all. "Winning a SSHRC doctoral award is a huge honour. It motivates me even further to ensure that my research has tangible impacts on the way we educate health professionals," says Boyd.
Sydney Campbell, who is in the fourth year of her PhD in the Health Systems Research program, was awarded a SSHRC Canada Graduate Scholarship worth $105,000 over three years. Her research project, which is supervised by Drs. Jennifer Gibson and Jeremy Petch, focuses on generating evidence to advise policy on medical assistance in dying for mature minors. These are individuals who are under the age of 18 years who are deemed capable and can legally consent to the treatment in Canada. The views of children and youth are often missing from discussions around issues that should be considered and the effectiveness of a policy solution, says Campbell. "My project encompasses a unique intersection of ethical, qualitative and policy research to generate robust policy recommendations and ensure the perspectives of young people with critical, complex illnesses can be brought to the forefront of medical assistance in dying deliberations," she says.
Joseph Donia, who is in the second year of his PhD in the Health Systems Research program and supervised by Drs. Jay Shaw and Jennifer Gibson, was awarded $80,000 over four years. His research looks at the ethical design of artificial intelligence for health. He is studying how much agency designers have in influencing the direction of an AI technology, as well as the nature, origins and strength of perspectives they bring to design. "The study will generate both theoretical and practical insights into 'upstream' influences on design, their interaction with designers and design practice, and the consequent possibilities for ethical design of AI for health," Donia says.
Lauren MacEachern, a fourth-year PhD student in the Health Systems Research program, was awarded $40,000 over two years. Her thesis, which is supervised by Dr. Whitney Berta, is on identifying and de-implementing administrative practices in long-term care that are low value. These are practices that are either harmful, based on tradition or without scientific evidence. In the first phase of her project she will study why some practices are targeted for de-implementation, and how context influences the de-implementation of low-value administrative practices. In the second phase, she will identify how practices are removed and the consequences of their de-implementation.

Sign up for IHPME Connect.
Keep up to date with IHPME's News & Research, Events & Program, Recognition, e-newsletter.
Get in Contact
---
Communications
TBD
Email Address: ihpme.communications@​utoronto.ca
Manages all IHPME-wide communications and marketing initiatives, including events and announcements.