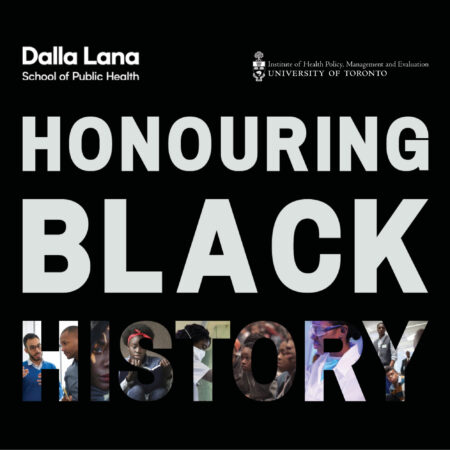 This February, IHPME joins the University of Toronto community and the rest of Canada in recognizing Black History Month. This is a time to celebrate the contributions of people of African and Caribbean descent that have enriched every sector of society. During this month (and beyond) we will highlight the achievements of Black scholars at IHPME—in research, policy, patient care and advocacy. I encourage you to take part in the cultural and education activities happening this month. Under the leadership of Ryan Hinds, DLSPH's Director of Diversity, Equity and Inclusion, the School has organized a number of exciting online events:
There are also a number of university-wide
events
in celebration of Black History Month. This is also a time to acknowledge the struggles of Black people and the effects of racism. We are committed to creating a more equitable and inclusive environment where everyone belongs and can realize their potential. The Institute's Equity, Diversity and Inclusion committee, comprised of faculty, students and staff, is creating a strategic plan to carry out this mandate. The committee is developing initiatives to raise awareness around systemic and personal biases and accessibility, and to enhance diversity and inclusivity in our teaching, research, recruitment and hiring practices. As part of this, IHPME launched the
Black and Indigenous Peoples Postdoctoral Fellowship program
and the
Opportunity Scholarship
, which help us to attract outstanding trainees who will become the next generation of health researchers and policy makers. In reflecting on the work that needs to be done to address structural racism in the academy and elsewhere, I'm reminded of the words of Dr. Martin Luther King Jr. who said, "The time is always right to do what is right." Professor Audrey Laporte, Director, IHPME

Sign up for IHPME Connect.
Keep up to date with IHPME's News & Research, Events & Program, Recognition, e-newsletter.
Get in Contact
---
Communications
TBD
Email Address: ihpme.communications@​utoronto.ca
Manages all IHPME-wide communications and marketing initiatives, including events and announcements.