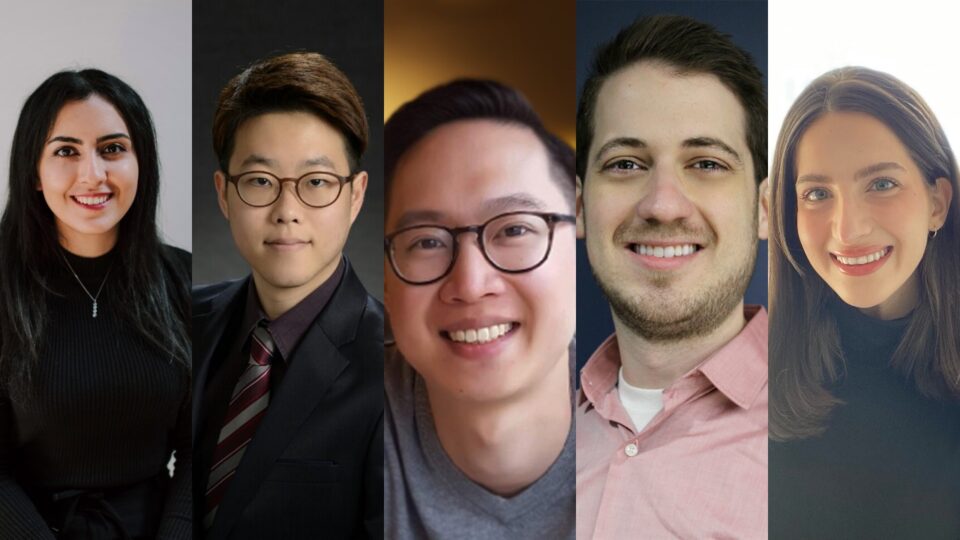 By Alisa Kim
Five PhD students at the Institute of Health Policy, Management and Evaluation (IHPME) received Canada Graduate Scholarship Doctoral Awards from the Canadian Institutes of Health Research.
Valued at $105,000 over three years, the awards promote excellence in Canadian research by rewarding and retaining exceptional doctoral students at Canadian institutions. The support enables scholars to concentrate on their studies, find the best research supervisors in their chosen fields and contribute to the nation's research ecosystem.
"Congratulations to all of the recipients on your awards. These competitive scholarships recognize the high calibre of your research and your promise as scholars. We are very proud of your achievements and hope this award supports and encourages you as you continue your training," says Dr. Audrey Laporte, Director of IHPME.
Bahar Behrouzi is a PhD candidate in the Clinical Epidemiology and Health Care Research program and a trainee in the MD/PhD program at the University of Toronto. Her research looks at the intersection between cardiovascular disease and viral respiratory illnesses in people with or at risk of cardiovascular disease, using global pragmatic trial data and provincial health administrative data. "As seen in the current pandemic, there is a vicious cycle between cardiovascular disease and viral respiratory illness—and this pattern is seen with other underlying medical conditions as well. My aim is to generate robust evidence that can inform how to prioritize persons with underlying medical conditions, like cardiovascular disease, in screening and vaccination campaigns, and optimize health care delivery," says Behrouzi.
Dr. Woo Jin Choi is going into the third year of his PhD in the Clinical Epidemiology and Health Care Research program and is a resident physician in the department of surgery at U of T. His research evaluates treatment outcomes of people with intrahepatic cholangiocarcinoma, a type of cancer that occurs in the parts of the bile ducts that are within the liver.
Alastair Fung is also a PhD candidate in the Clinical Epidemiology and Health Care Research program. His doctoral research project aims to develop models to predict infant hospitalization and death using clinical features assessed by community health workers during home visits in Dhaka, Bangladesh. His findings may generate a mobile app that can be used by community health care workers during home visits in low- and middle-income countries to identify and guide management of sick infants.
Rafael Miranda is a PhD candidate in the Health Systems Research program with emphasis in health technology assessment. As part of his thesis, he is developing an online tool to identify people with severe aortic stenosis who should be prioritized for transcatheter aortic valve implantation. Aortic stenosis, the narrowing of the heart's aortic valve, is a condition that blocks or reduces blood flow from the heart to the main artery of the body. He will also use decision-analytic models to estimate wait-time targets for these people and evaluate the clinical consequences of prioritization strategies based on different ethical frameworks.
Yasmin Sheikhan, a first-year PhD student in the Health Systems Research program, is developing a reporting guideline specific to patient engagement in mental health research. The aim is to set standards for engagement in research. "I hope that by creating this guideline, we can improve the quality and rigour of patient engagement and pave the way for more meaningful research impact," says Sheikhan.

Sign up for IHPME Connect.
Keep up to date with IHPME's News & Research, Events & Program, Recognition, e-newsletter.
Get in Contact
---
Communications
TBD
Email Address: ihpme.communications@​utoronto.ca
Manages all IHPME-wide communications and marketing initiatives, including events and announcements.