As part of the North American Observatory on Health Systems and Policies (NAO) Lecture Series we welcome Ruth Waitzberg on Thursday, March 18, 2021 at 9:00 AM. This webinar is free of charge and open to anyone. Forward it to a friend who might be interested.
Israel's vaccination rollout: short term success, but questions for the long run
Following the rapid development of effective COVID-19 vaccines, countries are now facing the challenge of rapidly rolling out vaccination programs to immunize the population and restore as much of normal life as quickly as possible. The example of Israel is often presented as the model for early rollout of COVID-19 vaccinations but what were the specific factors contributing to this early success? What was the contribution of existing infrastructure, organizational and health workforce capacities?
Ruth will highlight three factors that have implications for the long run: availability, provision, and compliance. What are the lessons and concerns for the long run? How might Canada use this experience when swiftly scaling up its vaccination program?
RUTH WAITZBERG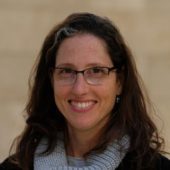 Ruth Waitzberg is a researcher at the Department of Healthcare Management at the Technical University of Berlin and is involved in projects with the  European Observatory on Health Systems and Policies. She is also a researcher scholar since 2010 at the Health Policy Team, the Myers-JDC-Brookdale Institute, Israel's leading center for applied social research. A strong believer that evidence can help policymakers design better policies, Ruth has worked in collaboration with Israeli policymakers and has won competitive grants for independent studies on healthcare policy and economics. In 2019, Ruth acts as assistant editor at the Israel Journal of Health Policy Research and associate and managing editor at the Health Policy Open Journal.
Her primary research areas are: payment to health providers and incentives, health insurance, policy evaluation, health and long-term care systems, cross-country comparisons, and COVID-19 related policy.
Ruth holds a BA in sociology, anthropology and political science and an MA in public policy, both from the Hebrew University of Jerusalem, and is finalizing her joint PhD at the Technical University of Berlin and Ben Gurion University of the Negev.
Suggested readings for this NAO Lecture:
---
North American Observatory on Health Systems and Policies (NAO)
The North American Observatory on Health Systems and Policies (NAO) is a collaborative partnership of interested researchers, health organizations, and governments promoting evidence-informed health system policy decision-making. Due to the high degree of health system decentralization in the United States and Canada, the NAO is committed to focusing attention on comparing health systems and policies at the provincial and state level in federations.
---
Zoom Registration:
Please register in advance using the following link:
After registering, you will receive a confirmation email containing information about joining the meeting. 

Sign up for IHPME Connect.
Keep up to date with IHPME's News & Research, Events & Program, Recognition, e-newsletter.
Get in Contact
---
Communications
TBD
Email Address: ihpme.communications@​utoronto.ca
Manages all IHPME-wide communications and marketing initiatives, including events and announcements.