April 16, 2021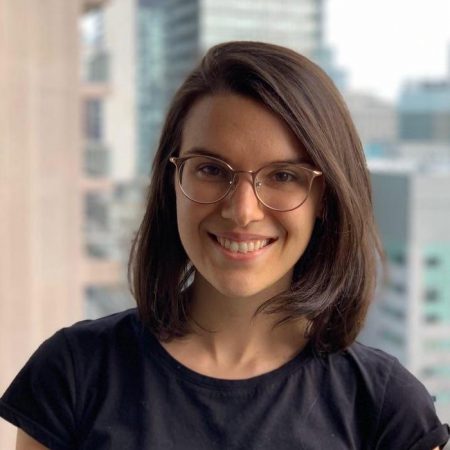 By Alisa Kim
Victoria Haldane, a third-year PhD candidate in the Health Services Research Program at the Institute of Health Policy, Management and Evaluation (IHPME), was named a University of Toronto Alumni Association Graduate Scholar through U of T's Awards of Excellence program.
The prestigious award program, which dates back to 1921, celebrates students, staff and faculty who demonstrate a commitment to enhancing the university experience of their peers, and leave a significant impact on the institution through their leadership.
Haldane was recognized for her advocacy for greater environmental awareness across the health sciences. As a founding member and co-president of ELESH (Emerging Leaders for Environmental Sustainability in Healthcare), she and her team have engaged students at U of T and across universities in Canada on this issue through events, dialogues and research activities. In 2020, ELESH held successful case challenges where multidisciplinary teams of students pitched their ideas for more environmentally friendly health care practices. The group has also developed a framework to establish environmental sustainability as a way of studying health services.
Haldane's PhD, supervised by IHPME Associate Professor Xiaolin Wei, is on the implementation of a program to support access to care by people with tuberculosis in rural and remote areas in Tibet, China. She says she was pleasantly surprised to be chosen for the honour.
Part of the selection process involved being interviewed by a committee about her advocacy and capacity-building work; Haldane says this was yet another opportunity to engage people in the issue of planetary health. "One of the committee members said, 'We're using so many disposable masks.' We had a great conversation about environmental sustainability and health care, and for me it's all about these opportunities to further that conversation and bring that conversation to spaces where you wouldn't expect to bring it. That's what ELESH is about," she says.
Haldane, who also holds a Vanier Canada Graduate Scholarship, says she was "thrilled" to be considered for the honour, and that the award highlights the teamwork of her colleagues at IHPME and ELESH. "There's no way I'd be in the running for this award without this community. I know that sounds so cliché, but I feel like the reason I was even nominated for this award is because of the way ELESH and others in our grad program advocate for change—for looking at health systems in new and different ways. I think that's what excited me."