By Alisa Kim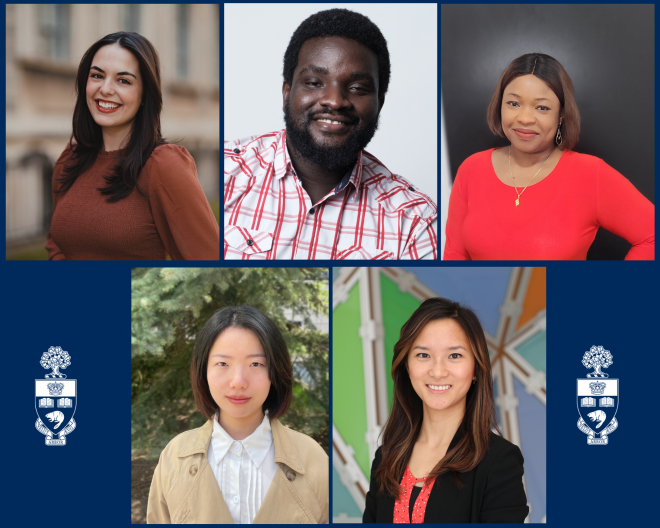 Five PhD students at the Institute of Health Policy, Management and Evaluation (IHPME) were awarded the 2023 Vanier Canada Graduate Scholarships—one of the country's most distinguished academic honours.
The award program was launched in 2008 to help Canada attract and retain world-class doctoral students, and establish it as a global centre of excellence in research and higher learning. Each award is worth $150,000 over three years and recognizes academic excellence, research potential and leadership.
Congratulations to all of the recipients on your awards. These prestigious scholarships are reserved for the best and brightest graduate students across Canada. We celebrate your accomplishments and are excited to see you develop into independent researchers."

Dr. Audrey Laporte, Director of IHPME
IHPME's 2023 Vanier Canada Graduate Scholars
Kayla Benjamin is a third-year PhD student in the Health Systems Research program at IHPME. For her dissertation, she partnered with Digna, a local research team in Bogotá, Colombia, to study the mental health impacts of unpaid care work on women who care for children, seniors and people with disabilities. The aim of the research is to further understanding of how social policies and programs within Bogotá's District Care System can support caregivers better. She says she is "thrilled and honoured" to receive the award. "I am immensely grateful for the mentorship, research team and support system that helped me achieve this honour. I have an incredible committee of leading experts effecting positive change for paid and unpaid care internationally, including my wonderful supervisor Dr. Erica Di Ruggiero, Dr. Ito Peng, and Dr. Natalia Ramírez Bustamante," says Benjamin.
Otuto Chukwu is a second-year PhD student in the Health Systems Research program. His research is on amplifying the role of pharmacists to support equitable access to the cancer control continuum in sub-Saharan Africa. "What drew me to this area of research is the high burden of cancer globally, disproportionately borne by low- and middle-income countries in sub-Saharan Africa. My goal is to contribute to improving access to cancer control services," says Chukwu. He says he felt "elated and overjoyed" at the news of his award. "This scholarship is a significant endorsement of my vision to break boundaries and advance causes that promote equity, justice, fairness and kindness in our world. I feel really grateful for the opportunity and access this scholarship will give me in furthering my PhD studies and my research," says Chukwu.
Dr. Omolara Fatiregun is a third-year PhD candidate in the Clinical Epidemiology and Health Care Research program. Her research compares the intervals to diagnosis and treatment for breast cancer, and outcomes among Ontario women who are immigrants or refugees with those of long-term residents. "I feel grateful and encouraged that I was selected for the Vanier Award," says Dr. Fatiregun. "I hope my project will contribute to current knowledge on the impact of immigration on breast cancer outcomes in Ontario and, in the long run, inform policies on breast cancer."
Dr. Kristel Leung is also in the third year of her PhD in the Clinical Epidemiology and Health Care Research program and is a resident physician in gastroenterology at U of T. Her research is on the epidemiology of autoimmune liver diseases in Ontario. In particular, she is studying how socioeconomic and geo-epidemiological factors affect disease development, health care use and disease trajectory. She says she was "ecstatic" to learn of her award and that she is inspired to do this work by the patients she sees. "I am always mindful of the fact that there have been so many people who supported me in my journey, and hope that I can pay it forward in the future. I am also informed and motivated through my clinical experiences with individuals living with these conditions."
Ting Xiong is a first-year PhD student in the Health Systems Research program. Her research aims to develop a culturally sensitive digital intervention for people with heart failure and their caregivers. "This intervention will provide data sharing of symptoms, and algorithm-driven, customized and actionable suggestions for patient support and caregiver well-being," says Xiong. The technology will also enable instant messaging with health care providers, medication management and educational resources. She credits the support of her supervisors, colleagues and friends with helping her to apply for the scholarship, which she says is highly motivating. "This award encourages me to continue achieving my goal of developing and delivering more equitable and accessible health care in Canada and globally." 

Sign up for IHPME Connect.
Keep up to date with IHPME's News & Research, Events & Program, Recognition, e-newsletter.
Get in Contact
---
Communications
TBD
Email Address: ihpme.communications@​utoronto.ca
Manages all IHPME-wide communications and marketing initiatives, including events and announcements.